This article is incomplete or has incomplete sections. You can help Mobius Encyclopaedia by expanding it.
No Previous Issue ←—→ Next Issue


Halloween Comic Fest Special
Publication Details
Issue 

1

Date Published 

October 9, 2013

Production Staff
Cover Artist
Writer
Pencils
Inks
Letters
Colors
Assistant Editor

Vincent Lovallo

Editor

Paul Kaminski

Editor in Chief

Victor Gorelick

President

Mike Pellerito

Publisher

Archie Comics

Special Thanks

Aaron Webber

Sam Mullen

Anthony Gaccione

Cindy Chau

First Appearances
Characters

  
Sonic Lost World is the first Halloween Comic Fest issue. It contains a tie-in story to the Sonic video game of the same name.
Official Solicitation
"It's a Halloween SONIC fest! Just in time for the launch of the newest smash-hit SEGA video game Sonic Lost World (on sale 10/22), comes the official comic book prequel comic available for the first time anywhere for Halloween Comic Fest 2013! Hitch a ride alongside the truest, bluest hedgehog around as this timeless video game icon takes on the newest baddies to burst onto the scene: the Deadly Six, and of course the evil Dr. Eggman! Hot off the heels of the titanic, Sonic/Mega Man: Worlds Collide summer blockbuster, Sonic comics have never been hotter! Now is your chance to check out the next big thing from the one and only "blue blur"! "
Summary
Lost World
Quotes
Key Events
Dr. Eggman discovers the planet of the Lost Hex, where he encounters the Deadly Six.
Under Eggmans command, the Six arrive on the surface of Sonic's world to round up animals.
Sonic and Tails follow Eggman to the Lost Hex.
Background Information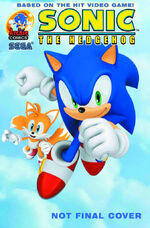 This issues story was first announced in the solicit for Sonic Super Special #9, where it was believed that issue would be its debut.
The whole second half of the comic, where Sonic and Tails chase Eggman to the Lost Hex, is a word-for-word recreation of the opening scene from the Sonic Lost World video game.
This is the first full Sonic story to be pencilled by Ryan Jampole, who had previously stepped in for Jamal Peppers to pencil the last few pages of Mega Man #25 (part of the "Worlds Collide" crossover.
This is the first video game tie-in story not to take place in the Another Time, Another Place reality since the Sonic Rush Adventure adaptation in Sonic the Hedgehog #180.

During the Sonic Lost World Charity Playthrough livestream, Ian Flynn stated that the story actually will be canon to the main continuity "later".
Reprint History
This issue has been reprinted in the following places: