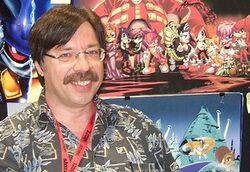 Ken Penders is a former main writer of the Archie Sonic titles.
Making his debut in StH #11, Ken was one of the many creatives that defined the early Archie Sonic universe, focusing particularly on Knuckles the Echidna and The Chaotix. While best known as a writer, Ken was also involved in nearly every aspect of the comic, regularly contributing art and being the only person to have ever filled every non-editorial role in the creation of a story (StH: #93) in the history of the series.
He officially stopped working on Archie's Sonic series prior to the release of StH #159, with his final contribution (as Inker and Letterer) appearing in StH #169.
Ken is well known for his legal disputes with Archie Comics and SEGA, his grievances with the former being one of the key causes behind the series' 2013 reboot. All characters created by Ken or directly inspired by his stories have since been excluded from the series.
Credits
Notable Non-Sonic Works
DC Comics' Star Trek: The Next Generation vol. 2 (four issues, two specials)
Malibu Comics' Star Trek Deep Space Nine (two issues, one special)
Valiant Comics' The Legend of Zelda (one issue)
The Lost Ones (one issue)
The Republic (planned live-action series)
Legal Disputes and "The Lara-Su Chronicles"
In 2008, Ken filed a copyright infringement suit against Sega and Electronic Arts, when several new characters and concepts allegedly based on his contributions to the Archie Sonic titles were created for and used in the Nintendo DS game Sonic Chronicles: The Dark Brotherhood. Shortly thereafter, Ken revealed plans to use characters created in his Archie Sonic the Hedgehog stories in his own original graphic novel project, which led to Archie comics filing a cease and desist order and eventually filing a lawsuit against Penders himself. Hearings for the Archie case were continually postponed and numerous affidavits were filed by former creatives in Penders' defense, most noteworthy of which was Scott Shaw!
In late 2012, all characters created or introduced by Ken Penders were removed from any further use or reference in Archie's Sonic the Hedgehog comic franchise. Due to story arcs in production at the time in both Sonic the Hedgehog (StH #243 - #246) and Sonic Universe (SU #46 - #49) heavily featuring characters created by Penders, both books were subject to sudden rewrites (with obvious changes in font sometimes even mid-sentence) and art edits. Sonic the Hedgehog issues #244-246 were entirely rewritten to remove dozens of characters from the advertised Knuckles-centric story, Sonic Universe issues #46 and #47 replaced Rob O' the Hedge and Mari-An with the functionally-similar Bow Sparrow and Thorn the Lop, and most of the affected issues were subject to edited cover art, ranging from removed characters to entirely redrawn covers. Additionally, Rob's removal forced the rewriting of SU #46's entire Off-Panel.
Additionally, reprinted material is books such as Sonic Super Special Magazine Issue 6 and Sonic Super Digest Issue 2 greatly deviated from the content advertised before their release. Both books advertised Chaotix stories (namely the Return to Angel Island arc which was intended to be split up between the books), but SSSM #6 instead ran stories from the Iron Dominion story arc and both books avoided reprinting any stories containing work by Ken Penders. The Digest also omitted Julie-Su and Saffron entirely from the Chaotix profiles, and all Penders-created locations on Angel Island were renamed on the included map to generic terms. Additionally, the stories that reprinted in the magazine edited most mentions of the Dark Egg Legion into "Eggman's Army," and an entire page featuring Lien-Da was removed from the #209 reprint.
A settlement was reached between Archie Comics and Ken Penders in 2013, but the details of this settlement have not been disclosed to the public and never will be per the agreement. After fans approached him seeking his terms for licensing them to Archie Comics, Penders claimed that they must adhere to the following stipulations in order to license and use characters created for his stories: Mobius: 20 Years Later must be deemed the official future for the Sonic comic rather than an alternate timeline; Julie-Su, Lara-Su, and Locke must be left untouched (a claus which the comic were already, retroactively, in violation of due to Locke's death); and all stories that involved Lara-Su must meet his approval before being printed. However, Penders maintains that this does not confirm or deny the details of the settlement he reached with Archie and has since stated that he no longer cares if his characters ever appear in the Sonic books again.
With several subplots unresolved and featuring numerous characters created by Penders, the comic's continuity was rebooted following the Worlds Collide crossover. In-universe, Sonic's universe was changed by Dr. Eggman's meddling with reality. Notably, the characters created by other creators also vanished from the book, including those of Karl Bollers who has stated that he also owns the characters he created during his tenure as writer and has not been contacted by Archie regarding this.
While his characters are no longer featured in Archie's Sonic the Hedgehog, Penders' original project, "The Lara-Su Chronicles", is set to feature several former Archie Sonic characters. Intended to pick up from the end of "Mobius 25 Years Later" (StH: #144), the series has altered several concepts from the original story ostensibly to avoid infringement on Sega's intellectual property, however, Penders continues to maintain the alterations are done for different reasons.
In November 2015, Penders announced on Twitter that he would again pursue legal action against Archie for "breach of agreement".
Penders actions would later inspire fellow former writer Scott Fulop to persue legal action against Archie for unauthorized use of his characters (such as Mammoth Mogul) after his departure and reprinting of his stories and concepts.
Criticism
Although often considered a major influence on Archie Sonic's established universe and easily one of the most involved creators to work on the franchise, several of Penders' decisions when writing for Archie, as well as several of his recurring writing habits, have been the subject of criticism from fans. Notable criticisms include the glut of characters introduced in his stories, his disregard for story elements established in the series' source material, his penchant for secret family members and monologue, and a lack of distinguishing features between characters he created. Since his disputes with Archie came to light, fan reception of him has been mostly negative; many blame him for the removal of his concepts from the series.
Penders' artwork throughout the series has also come under heavy criticism, with many complaining of disproportioned character models, usage of stock images as background artwork, and accusations of tracing.
Another criticised aspect of Penders' tenure was his inability to work properly with other writers on the series. Ken has often been known for going ahead with his own stories while paying very little attention to any continuity that other writers established in other stories. This disregard for his fellow creatives is believed to be what caused fellow headwriter Karl Bollers to leave the series.
Community content is available under
CC-BY-SA
unless otherwise noted.