Jordan of the House of Edmund




Biographical information
Age 

Unknown (Died ????)

Relatives 
Title 

Guardian of the Floating Island (formerly)

Species 

Mobian/Echidna

Physical description
Gender

Male

Description

Fur: Red
White crest on chest

Attire

White spiked gloves
Blue vest
Gray boots

Political Alignment and Abilities
Affiliation
Abilities

Enhanced Intelligence
Enhanced strength
Chaos-based powers

  
Jordan was a Mobian Echidna, the brother of Aaron and the son of Rembrandt. He was the first Guardian to be trained at a young age to survive on his own.
History
Training to Become a Guardian
Following Aaron's death while stopping Menniker from launching a nuclear missile, Jordan approached his grieving father and asked if he could be trained as a Guardian too in order to take up his brother's place. Rembrandt agreed, but trained Jordan in a different fashion than any previous Guardian. By keeping certain information — including the continued existence of previous Guardians — secret from Jordan, Rembrandt taught his son to gain responsibility gradually, eventually leaving him alone to learn self-reliance in a tradition that continued on to Jordan's son Mathias all the way down to Knuckles, though the Brotherhood of that time were uneasy about this change in tradtion. (KtE: #25)
After Death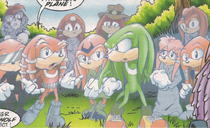 Generations later, Jordan appeared to the deceased Knuckles along with other deceased Brotherhood members at the youngest Guardian's funeral. (StH: #121)
Background Information
Appearance
A red Echidna, Jordan wore a blue vest, white gloves and grey boots. Jordan featured a unique marking on his forhead, a trait he shared with his grandfather Harlan and son Mathias. In the afterlife, Jordan's marking on his forehead looked more like a metal plate similar to that Sojourner. It isn't explained wether his marking was replaced by a metal plate at some point during his life, or if it was simply an artistic error.
Community content is available under
CC-BY-SA
unless otherwise noted.