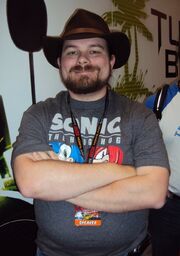 Ian Flynn (also formerly known under his pen-name Ian Potto) was the most recent head writer of the Archie Sonic titles.
His tenure began with StH#160 and lasted up to its cancellation. He would later go on to become the head writer of the series' successor under IDW Publishing.
His wife is fellow writer and colorist Aleah Baker.
Writing Credits
#3: "Time for a Comeback"
#10: "Sonic Dash"
#11: "Sonic Comic Origins: Blast From the Past - Part One"
Miscellaneous Writing Contributions
Notable Non-Sonic Works
Archie Mega Man: Flynn has written every issue of the comic to date, including those which tie into Worlds Collide and Worlds Unite.
New Crusaders (Red Circle)
Cosmo (2018 reboot; Archie Comics)
Flynn has also made several small contributions to the main Archie titles.
Teenage Mutant Ninja Turtles (IDW Publishing)
Background Information
Before becoming the comics writer, Flynn was briefly known amongst the fan community for a Sonic fancomic he wrote titled "The Other M".
In an interview in SSSM#1, Flynn stated that his influences as a writer are "Shakespeare, Stephen Crane, Kurt Vonnegut, E. E. Cummings, Chris Claremont, Robert Kirkman, Brian M. Bendis, Mark Miller, Dr. Seuss, Jeff Smith, Don Rosa and so many more."
Ian Flynn has written a couple of episodes for the second season of the Sonic Boom cartoon show.
Community content is available under
CC-BY-SA
unless otherwise noted.