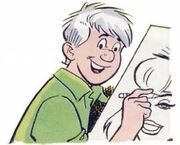 Dan DeCarlo was one of the most prolific artists on the mainline Archie Comic titles, and was credited as the co-creator of popular Archie characters Sabrina the Teenage Witch, Josie and the Pussycats and Cheryl Blossom.
He briefly crossed over into the Archie Sonic titles with the Sabrina and Sonic crossover storyline "Some Enchantra Evening", which ran in Sabrina the Teenage Witch #28 and Sonic Super Special #10, where DeCarlo provided the pencils for the Sabrina characters (opposite Dave Manak drawing the Sonic characters).
DeCarlo passed away on December 18, 2001 from pneumonia, aged 82.
Community content is available under
CC-BY-SA
unless otherwise noted.