This article is incomplete or has incomplete sections. You can help Mobius Encyclopaedia by expanding it.
Sonic the Hedgehog
Publication Details
Issue 

280

Date Published 

April 13, 2016

Publishing Company 

Archie Comics

Production Staff
Cover Artist
Writer
Editor
Editor in Chief
President
Publisher
First Appearances
Characters
Locations
Vehicles

  
Archie Sonic the Hedgehog Issue 280 is the two-hundred eightieth issue of Archie Sonic the Hedgehog comic series .
Summary
Official Solicitation
Sonic, Tails and Chip head to the Efrikan settlement of Mazuri to find the next set of Gaia Keys—but they'll have to go through the tough and menacing Axel, the Egg Boss of the Efrika Egg Army, to find them! While deep in the heart of the Gaia Temple, Chip finds something incredible—but you'll just have to wait and see what it is! Then, in "A Special Occasion," Sally and Rotor are one girl's only hope in a family emergency! Featuring awesome cover art by jamming Jamal Peppers and an "Altered Beast" variant by the exquisite Erik Ly!


Story One
Keys to Victory
(this story occurs after Sonic Universe #86)
Story Two
A Special Occasion
The 5th Gaia Key
Off Panel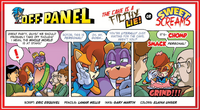 Rotor is ready to take off from the party but Sally informs him that it is personal. He realizes that Sally only really wanted to stay for cake. Though when the cake was finally brought out, Sally gobbles it up, still stating that it was personal.
Key Events
After gaining access to the Gaia Temple's inner sanctum, Chip seems to regain some of his lost memories after coming into contact with a mysterious ball of light.

Chip also learns about ancient entities called Chaos Titans.

Sonic, Tails, and Chip get the 4th Gaia key.
Saly and Rotor get the 5th Gaia key.
Quotes
Background Information
Despite what appears on the cover, it is actually Tails who is in the temple with Chip when the latter finds and interacts with the glowing wall.
Cameos & References
The variant cover is an homage to the Sega video game Altered Beast. The game's logo is also used.
Professor Pickle telling Otto that the Gaia Key belongs in a museum is a reference to the Indiana Jones series.
The Off Panel's first title "The Cake is a Filthy Lie" is an obvious reference to the popular quote "The Cake is a Lie" from the game Portal.
Reprint History
This issue has been reprinted in the following places: