This article requires an overall cleanup. You can help Mobius Encyclopaedia by formatting it to ensure it meets the site's criteria.
Sonic the Hedgehog
Publication Details
Issue 

174

Date Published 

April 2007

Production Staff
Cover Artist
Cover Colorist
Writer
Pencils
Inks

Jim Amash
Michael Higgins

Letters

John Workman
Michael Higgins

Colors
Editor
Managing Editor
Editor in Chief
Publisher

Archie Comics

Special Thanks

Robert Leffler and Dyna Lopez at SEGA Licensing

First Appearances
Vehicles

  
Archie Sonic the Hedgehog Issue 174 was the one hundred and seventy-fourth issue of the main Sonic the Hedgehog comic series.
Summary
Official Solicitation
It's the biggest event in Knothole yet as two Freedom Fighters make the ultimate commitment! Which two long-time lovers will finally tie the knot? More importantly, will the secret Espio learns undo the happy matrimony? It's wedding bells and warning bells in the lead-in to the big issue #175 special event!
Story One
"Union"
Sonic and Sir Charles Hedgehog are in the Hedgehog residence preparing for the big wedding of Antoine and Bunnie Rabbot. Sonic is somewhat relieved, but still visibly let down by the break up with Fiona Fox. Tails comes to pick him up and they walk off and part with their parents so that they can go find the lucky couple. The duo have a brief, but encouraging talk about Tails' parents, before Tails confers to Sonic his hopes with Fiona. However, Sonic just tells him to get over it, and that there are plenty of time to figure it out. They walk down to the Freedom Fighters HQ, where they meet up with the Chaotix and the groom, Antoine. Antoine is visibly nervous and shaking, as Vector the Crocodile tries to calm his nerves by giving him advice. Sonic notices that Espio is missing, when Knuckles informs him of a solo mission he decided to go alone to: New Megaopolis.
While Espio is doing recon in the city, Sonic meets up with Bunnie and her maid of honor, Sally, as well as Rosie and Amy, the flower girl. They don't let him in, and tell him to go away to help compliment Julie-Su. When Sonic shows reluctance in this task, Rosie then tells him to keep the flower girl entertained, and sends Amy off with Sonic, much to Amy's delight and Sonic's horror. Bunnie, who is in a silver and white wedding dress, jokes with Sally and Rosie on sending Amy with Sonic before moving to the marriage and Sally's love life.
Back in New Megapolis, Espio finds a battle suit that Dr. Eggman had constructed. He is surprised and terrified at the same time.
Back at the wedding again, Sonic is complimenting Julie-Su and her pretty pink dress, and asks whether the couple will ever call themselves hitched up. Julie-Su comments the Dark Legion never had such a ceremony. Knuckles adds that they need no ceremony; their word is good enough.
Sonic rushes to the Grand Hall to meet up with the Royal Acorn Family. The family jokes about the wedding, and the two former lovers tease each other. Elias makes an awkward statement about the two's relationship, but it's tossed aside as Tails and his parents arrive to greet the royal family. As they walk away, Amadeus mutters a bitter statement about Elias, which Tails overhears.
In Megaopolis, Espio slips undetected into a computer room where he finds info about Eggman's plans. Shocked, he makes a run for it, only to be detected by one of Eggman's robots.
At the wedding, Elias gives a speech to the guests and proceeds to start the ceremony.
Meanwhile, Espio is suddenly under attack by the Eggman surveillance forces. He tries to get past them to escape, but is eventually cornered.
At the ceremony, Antoine and Bunnie exchange wedding rings, and are pronounced husband and wife by Elias. They kiss, and the crowd breaks out in applause. But...
Back at New Megaopolis, Espio is speaking angrily to an unseen figure approaching him, stating that the others will find out about his plan before long. Suddenly he is zapped by the figure, who is revealed to be Dr. Eggman himself wearing a metal glove, stating that they don't stand a chance.
Story Two
"See Ya Later Chao!" - Part Two
Sonic and his friends are enjoying a nice day at the Garden of Chao, when suddenly Robotnik appears and ruins the fun. He and his robots attack the garden as well as the heroes, but get beaten promptly. Unfortunately, due to collateral damage, the garden is destroyed, and Sonic decides to move them into the Lake of Rings, where they are well cared for by the Emerald's powers.
Quotes
Sonic: Are your folks that bad, Tails?
Tails: Worse! And that's why I love 'em!
Rosie: Convince Julie-Su she looks fine in a dress.
Sonic: Let's not ask for miracles here.
Rosie: All right then... (pushes Amy out with the flowers) keep our flower girl entertained until the ceremony!
Amy: (with hearts in her eyes) SONIC!
Sonic: (horrified) AMY!?
Julie-Su: (Angrily.) Hey, guys.
Knuckles: H-Hey, Julie-Su, w-wow!
Sonic: Hey, JS, you're looking good.
Julie-Su: Thanks, you're sweet. I hate dressing up like this.

Sally: Indolent!
Sonic: Prude!
Knuckles: (Seeing the chao helping him lifting the drilling machine.) What? Chuckles! That's it guys! Put some muscle into it!...I can't believe I just called it "Chuckles".
Key Events
Antoine D' Coolette and Bunnie Rabbot get married.
Dr. Eggman completes the preparations for his ultimate plan.
Espio discovers Eggman's plans for Knothole, but is captured before he can warn his allies.
The Chao Garden is destroyed by Dr. Eggman despite efforts to defend it by Sonic, Tails, and Knuckles, the Chao inhabiting it being relocated to the Lake of Rings.
Background information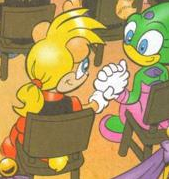 Writer Ian Flynn and his then-fiancée now-wife, Aleah make cameo appearances at the wedding in the form of their "Mobian" characters.
Many of the series' characters can be seen in the crowd during the wedding ceremony, including:
The cover art in this issue is drawn by artist Tracy Yardley. The credit box was mistakenly credited by Pat "Spaz" Spaziante.
The original line art for the cover depicts Antoine and Bunnie kissing; it had been assumed that the heart blocking them out was for preview purposes only, but it remained during the final print. This scene would later be seen in full in volume 3 of the Sonic Saga Series.
In the ending to "See Ya Later Chao," Jules is seen holding a chao resembling Omochao from the video game Sonic Adventure 2.
On the opening panel you can see a Nights and Sonic Drift posters on Sonic's wall.
Reprint History
This issue has been reprinted in the following places:
Community content is available under
CC-BY-SA
unless otherwise noted.