This article is incomplete or has incomplete sections. You can help Mobius Encyclopaedia by expanding it.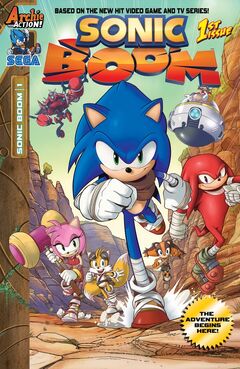 Sonic Boom is an 11-issue comic book series based on the eponymous Sonic the Hedgehog spin-off franchise. The series is set in a separate continuity from the main Archieverse. The comic began in October 2014 and came to an end the following September.
Overview
Set within the universe of the larger Sonic Boom franchise, the series consists of stand-alone stories that share characters and story elements with other installments within the franchise, such as its video games and television series, without being directly tied to them.
Unlike most of Archie Comics' other Sonic the Hedgehog series, Sonic Boom has a lesser focus on an overarching storyline, instead prioritizing short, lighthearted adventures.
The universe of this series also intertwined with the main Archie Sonic canon in the Worlds Unite crossover, alongside the universes of Mega Man, Mega Man X and various other SEGA and Capcom franchises.
The comic came to an unexpected end after the eleventh issue. It was initially promised that stories from the Boom universe would continue to be told in other Archie Sonic publications, a promise that never came to pass as a result of the Archie Sonic line's discontinuation.
Stories and Arcs
Getting a Little Boulder (#1)
Knuckleduster (#2)
Hammer-Spaced (#3)
Sticks and Stones (#4)
Eggtoberfest (#5)
Everybody's Super Sonic Racing (#6-7)
Worlds Unite (#8-10, SU#76-78, StH#273-275, MM#50-52)

Act I (SU#76, SB#8, StH#273, MM#50)
Act II (SU#77, SB#9, StH#274, MM#51)
Act III (SU#78, SB#10, StH#275, MM#52)

Eggman Gets a Gorilla + True Stories (#11)
Characters and Concepts
Characters
Robots
Items
Locations
Background Information
Sonic Boom is the fifth Sonic comic book series to be published by Archie Comics, and the second to be considered outside of the shared Archie Sonic continuity after Sonic X. It also holds the less-than-appealing honour of being the shortest lived of the spin-offs, lasting for only 11 issues (undertaking the Knuckles series).
Community content is available under
CC-BY-SA
unless otherwise noted.